Find the Path is excited to announce a new venture: Tales from Darkmoon Vale! On May 27th, we will be launching a brand new Pathfinder Second Edition mini-series audio adventure. This actual play will be available exclusively on our YouTube channel, and will release weekly on Wednesdays.
What is Tales from Darkmoon Vale?
For our first foray into recorded second edition, we'll be playing through a converted version of Hollow's Last Hope. This GameMastery Module was written by Jason Bulmahn and F. Wesley Schneider and released by Paizo in 2007 as part of Free RPG Day, which means the adventure is available for free on Paizo's website! Hollow's Last Hope also happens to be the first ever adventure set in the world of Pathfinder. It is part of a series of adventures all set in the town of Falcon's Hollow.
To quote from the back of the adventure:
The plague has come to the town of Falcon's Hollow, and not even the town's priest can abate its wretched course. With the coughs of the sick and the wails of the dying echoing through town, the local herbalist uncovers a cure, but she needs some brave heroes to retrieve the ingredients. Finding the cure means risking the dangerous Darkmoon Vale.

[…] Do the heroes have the skill and courage to find the cure in time?
Ross Scoggin has lovingly converted Hollow's Last Hope from 3.5 to Pathfinder 2e, and will be gamemastering this mini-series. Ross has many years of experience GMing, and will bring a fresh take on masterful storytelling to the Find the Path Ventures lineup.
Who is playing in Tales from Darkmoon Vale?
We will have five players on the show: Heather Allen, Jessica Peters, Jordan Jenkins, Rachel Sandidge, and Rick Sandidge. Yes, you read that right! Rick will be making his debut as a player on Find the Path in this series.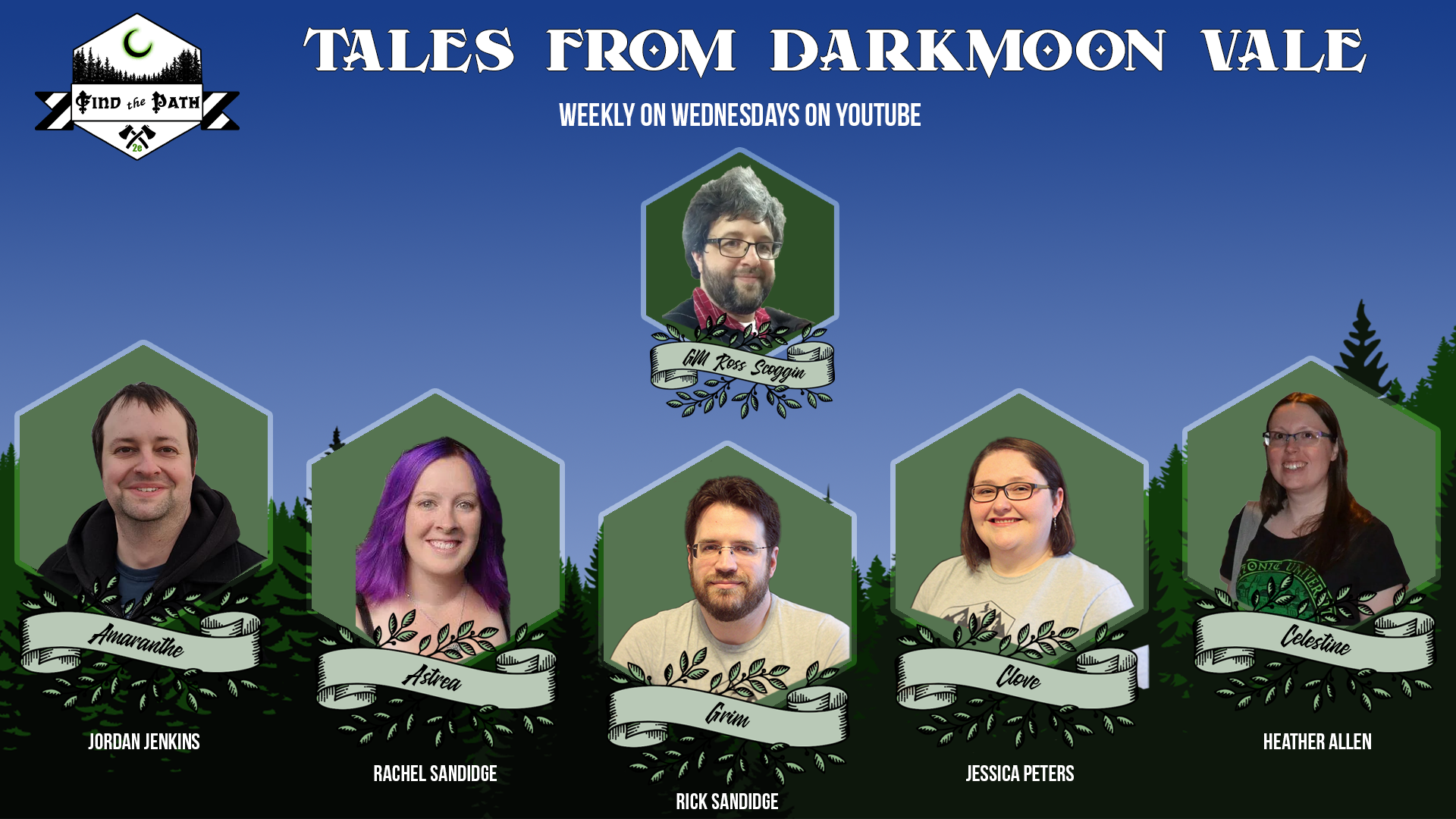 Heather is playing Celestine, a half-elf street urchin rogue who was raised on the streets of Falcon's Hollow.
Jessica is playing Clove, a human herbalist barbarian who is trying to navigate being an adult for the first time while working to find a cure for the people in the town.
Jordan is playing Amaranthe, an elf scholar wizard who has come to Falcon's Hollow to pay his respects at the funeral of an old friend.
Rachel is playing Astrea, a halfling laborer fighter who works as a forge worker while secretly working against the Lumber Consortium.
Rick is playing Grim, a dwarf scout champion who tends an apple orchard on the outskirts of town while caring for his daughter-in-law and granddaughter.
Why YouTube?
Tales from Darkmoon Vale will be our first mini-series adventure, and we feel it is a prime opportunity to try something new and different. Giving this series a home on our YouTube channel ensures it won't get lost in the Find the Path Podcast feed and gives us the chance to experiment with a new format.
As an added bonus, we will be hosting a Live Premiere of the first episode on May 27th at 7:30pm CDT so that listeners can join in for live commentary from the cast! This lines up with PaizoCon Online, which felt like a perfect time to get together with fellow fans of Pathfinder to celebrate a new entry into the Second Edition podcast world.
TL;DR
The first three episodes of Tales from Darkmoon Vale will release May 27th, 2020 at 7:30pm CDT on YouTube. Then expect a new episode every Wednesday until we finish this mini-series. Check out our YouTube channel for character previews and more information about the show!